Foster Info
When you foster a dog, you agree to take a rescue pup into your home and give them love, care and attention for either a predetermined period of time or until the dog is adopted.
Your foster dog will come to you fully vetted, up to date on vaccines and free of transmissible diseases to the best of our ability. We are happy to provide necessities like food, crates, beds and toys.
Many of our dogs come directly out of rural shelters in the southern and western states, often they are rescued hours from being euthanized, come from abuse or neglect situations and also occasionally from owner surrenders. Some animals handle the stress of being in a shelter and the effects of their former lives better than others, but it's common for the toll of their past to show through their behavior. Being in a patient and nurturing foster home helps them transition and allows them the chance to become the dog the are meant to be…a very best friend with a loving forever home waiting for them !
We have an active foster community – regional foster Facebook community pages where you can share any questions, concerns, pictures, or seek advice and support.
We welcome foster homes of all abilities: short term holds, temporary placements, long term care, injury care and surgical rehab, hospice fosters and senior fosters as well as puppies and pregnant mamas.
Any questions you may have along your foster journey: just send your foster coordinator an email at . We are here to help!
The first step to becoming an Underhound foster is to complete a foster application.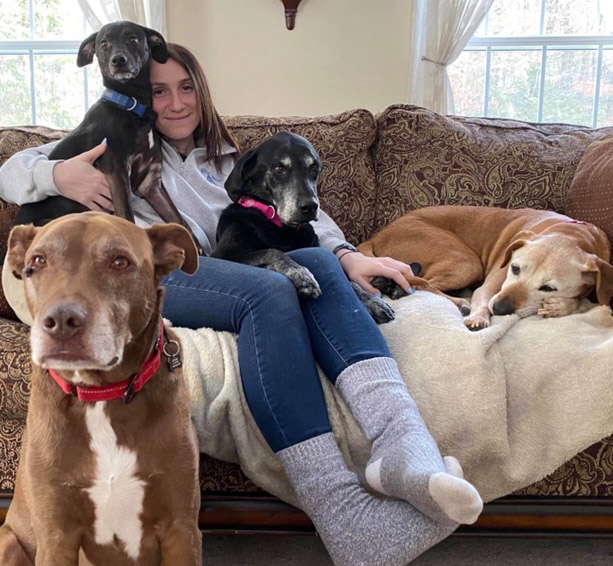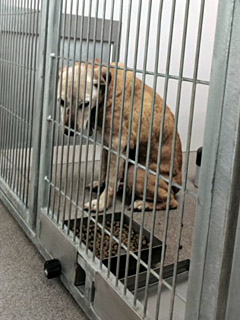 In memory of Saige,
Miss Saige was hard not to notice while walking through a noisy, full, southern kill shelter. With her white muzzle, her head hanging down and wearing a heavy collar with hook from a well worn chain still attached, Saige, who had clearly spent her life being a mama to countless litters of backyard puppies, was going to come home with us. We knew it the minute we saw her.
On her freedom ride out of the shelter, we watched her sigh a deep sigh, and she never looked back. Saige arrived at Underhound Railroad with a host of health problems stemming for years of neglect, but she quickly showed she was a happy girl, patient and loving. She loved being around children and her beloved foster people.
Saige continued her Cinderella story when she was adopted by one of our long time foster families and repeat Underhound adopters. Saige became Saige Dube, and lived her best life, everyday. Saige took a piece of our hearts when she passed away from cancer in June, nearly a year after she left the shelter. She died with her family by her side holding her, telling her how much she was loved. Saige lived a life before rescue of abuse and mistreatment, but she never seemed to have any anger in her heart. She left an impression on all who knew her and was loved beyond words. Rest easy, sweet girl.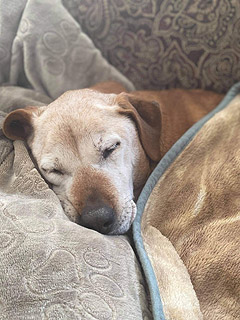 Being a dog lover in an area with way too many homeless animals – it didn't take long for me to come across a post desperately trying to find fosters for several senior dogs Underhound Railroad has saved from an overcrowded, rural NC shelter. I had lost my best (doggy) friend of 13 years a few months earlier and wanted to foster a senior in her honor. I fell instantly in love with an older gentleman named Atticus but when I went to meet with him, we were introduced to a older girl named Laurel. She had severe hair loss, an eye issue that caused an unsightly and I'm certain even more uncomfortable drainage and crusting. She immediately jumped up on my daughter and wagged her tail like she was the happiest pup in the world! With shaved and missing teeth and other obvious signs of having been homeless and/or neglected for quite sometime – it was amazing to see the gratitude and love she exhibited after just a day or 2 in loving foster care.

We decided immediately to foster Laurel who my 2 year old grandson started calling "Lulu". She was super sweet and completely house trained. She was, and to an extent still is, a bit hand shy, so slow and easy petting was the way to go – but she received daily hugs from my grandson (and myself) and constant petting from the rest of our full house and will now come up an nudge our hands for some puppy love 💖

Unfortunately after about a month in our care it was discovered that sweet Lulu has a cancerous tumor that cannot be removed. Although she would still make a wonderful pet for potential adopters- our family is blessed to now be Lulu's forever hospice foster family! Although the foster experience I envisioned was far from what reality had in mind- I wouldn't change a thing even if I could. Lulu has been with us for almost a year, but we all feel like she has been a member of our family for much longer. And although her health issues can give us a scare at times, and we know our time with her is limited, she has brought so much joy to our family with just a wag of her curly tail and a loving nudge from her cold puppy nose!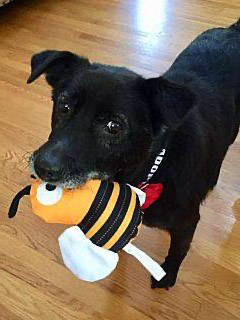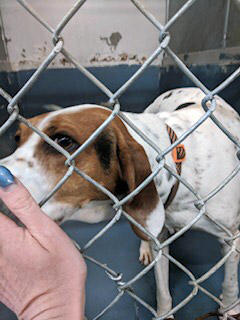 Belle has finished her heart worm treatments.  She will officially be allowed to be herself on September 6th. Keeping her chilled is a challenge as she wants to keep going when potty walked. And, she wakes up with enthusiasm to run to her breakfast bowl. When we first got her she wasn't the least bit interested in eating upon waking—now she is food motivated.  
Yesterday I picked a cucumber in my garden and while I picked a few weeds she picked it up in her mouth and was waiting at the door with it sticking out of her mouth like a cigar.  Unfortunately, I did not have my phone on me to take a picture. Too cute! I have given her a bite or two of cucumber when I'm fixing dinner and she obviously likes them!
Belle is a quick learner but has a stubborn streak when she gets something on her mind!
Overall, she is a wonderful companion and we are smitten! She is slowly getting back to health having had a UTI, worms in her stool and now an anal gland infection.  We are hoping that the heart worm treatment is successful and she'll be the picture of health this Fall!
Thank you for letting us take care of this love hound!  Her eyes reach into her soul to communicate! And we believe she is happy.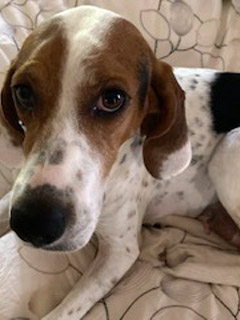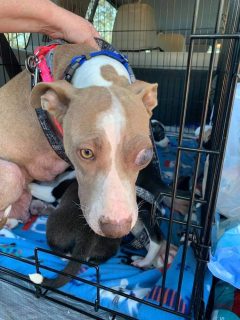 Underhound Railroad works with many compassionate rescue partners. One of these loving souls is Jessie at Best Buddies Rescue in Augusta, GA.
In the winter of 2020, someone reached out to Jessie wanting to give away four puppies. At the last moment, the owner of the puppies decided they wanted to give the Mama away, too.
There wasn't room for Mama at the time, but when Jessie saw her eyes, she immediately took her home and got her to the vet the next day.
This beautiful girl was soon named Ahava, and presented at the vet with severely infected skin and an injured eye.
Ahava's eye was quickly removed and with support from Jessie and a wonderful veterinary team, Ahava began healing her skin, eye and heart.
No one ever knew what happened to Ahava's eye. But we did know she was a special girl and soon enough, Ahava was strong enough to travel, and along with her four puppies, they made their way to forever homes in New England.
Ahava, you will always be in our hearts!
We hope you enjoy these photos of Ahava's journey..heartbreaking at first but comforting, at last. Ahava continues to live a beautiful forever life in Maine.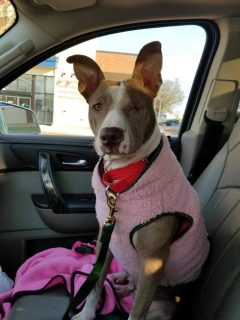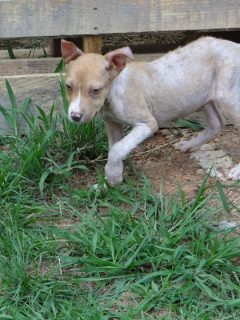 Back in 2014, a southern shelter contacted Underhound Railroad about a little abandoned puppy who apparently has been treated for a skin condition with gasoline.
He was skinny, had no fur and was so very scared and sad.
Underhound agreed to welcome him and named him Wallace. Once Wallace came into rescue, it was discovered "Wallace" was actually a "Wilma"!
With proper care and diet, Wilma began to flourish and become healthy. Her personality and confidence started to grow and it was time to move forward in her journey.
Once she landed in Maine at her new foster home it became apparent rather quickly she was already home. She stole the hearts of all she met. She was renamed Alani, Hawaiian for Orange tree as she was blossoming into a beautiful girl.
She now lives the life she was meant to have, showing her fur siblings and new foster siblings how love, health and confidence can lead to a happy, fulfilling life. Alani is dearly loved and brings joy to her forever family, everyday!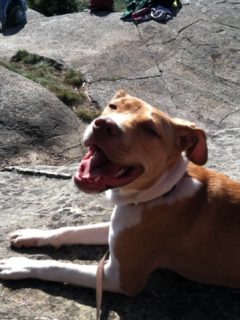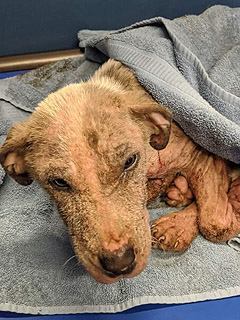 Little puppy Phoenix was brought into a North Carolina shelter covered in motor oil. He quickly stole our hearts and became an Underhound pup. After extensive veterinary care and lots of love from his foster family, Phoenix's skin started to feel better. We soon learned he had a gorgeous, multi colored coat and as he began to blossom in his foster home, he easily revealed his funny and quirky personality. It wasn't long before Phoenix found his forever home in Maine, where he now lives. Phoenix is the apple of his mama's eye and will always be a special boy to the Underhound Railroad family! Lots of people helped Phoenix on his way to health and happiness…we are grateful for each one of you!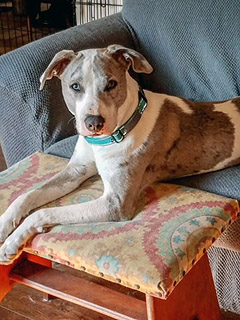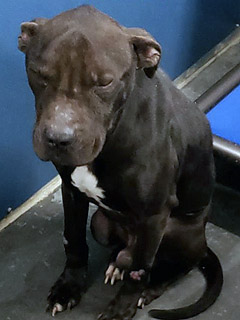 Sweet Warren…where do we begin!? Mr Warren holds the distinction of being solely responsible for the beginning of the Underhound North Carolina rescue program – which has now grown to include well over 60 foster families and more than 200 lives saved! Warren caught the eye of an Underhound volunteer after she saw his shelter picture on social media and couldn't sleep for several days afterward – his dejected and emaciated appearance after struggling to survive living at a dump, was hard to shake. She mentally promised him she would get him out of the shelter and thanks to a wonderful Underhound director, and a lifesaving foster offer, it happened! Warren was rescued alongside two other dogs, the first dogs in the NC rescue program. He was in foster for 8 months while undergoing heartworm treatments. During this time he also learned how to sit and be a good boy. His joyful and bouncy personality is hard not to love, even when he eats your shoes, which he does sometimes….
Warren was rescued alongside his shelter friend, Velma, a beautiful, grey pit bull mix, and the two of them have now been adopted, together, into the same home. We will love you forever, Warren. Thanks for showing us a new way….