These dog treats are SIMPLE, HEALTHY, VERSATILE, & HOMEMADE. This one recipe was designed to make dog treats with ingredients that are both inexpensive and probably already sitting in your cupboard at home. And who doesn't LOVE the peace of mind knowing what their BEST FRIEND is eating?!
This four-ingredient recipe is pretty much foolproof. FIRST: Pick a flour. I have made these with just about every type of flour. Any flour you have sitting at home will do. SECOND: Pick an all-natural nut butter. I like good-old peanut butter the best. THIRD: Determine what else you have sitting at home. Will it be applesauce, pumpkin puree or banana? LAST: Grab an egg. Now it's as simple as MIX, BAKE, COOL, & SERVE.
Mix: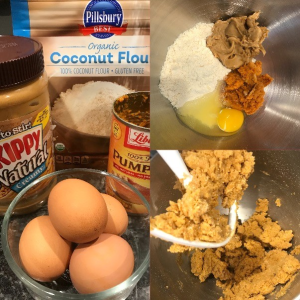 COCONUT, PEANUT BUTTER, & PUMPKIN COMBO!
Bake & Cool: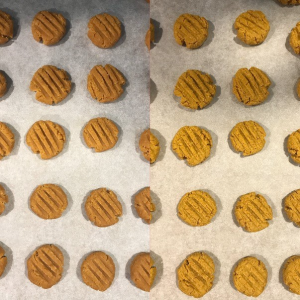 UNCOOKED VS. COOKED
Serve: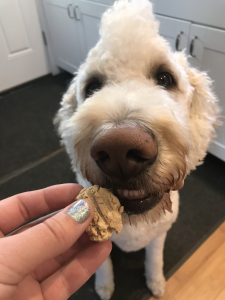 HOMEMADE DOG TREAT RECIPE
PREP TIME: 15 MINUTES
COOK TIME: 20 MINUTES
YEILD: APPROXIMATELY 50 COOKIES (1 TSP SIZED)
INGREDIENTS:
1 cup of flour (Whole Wheat, All-Purpose, Oat, or Coconut)
1 cup of nut butter (peanut butter)*
1/2 cup of something else (Applesauce, Pumpkin puree, or Banana)
1 egg
INSTRUCTIONS:
Preheat the oven to 300F degrees & line a cookie sheet with parchment paper.
Combine all the ingredients and mix thoroughly.
If the dough is sticky, add a little flour until you can handle the dough without it sticking to your hands. If the dough is dry and sandy, add an extra egg.
Roll into 1 tsp sized balls & then flatten with a fork in a criss-cross pattern.
Bake for 18-20 minutes. Then let cool.
Store in an air tight container for a few days or freeze until you're ready to use, at which point thaw at room temperature before feeding.
HELPFUL HINTS:
DIY Oat Flour: Add oats to a food processor and grind until they reach a fine powder. Oats are usually cheaper than oat flour. Any kind of oat will work.
Crunchy Treats: Decrease oven temperature to low heat and cook for a few hours. Monitor for desired crunch.
*All-natural peanut butter is best. AVOIDlite or sugar-free peanut butter, as those may have artificial sweeteners (such as xylitol) which is toxic to dogs.
*DISCLAIMER: You should always check with your veterinarian before feeding your pet any new food or treats, especially if he/she has any allergies or stomach sensitivities.
ALL images and text created by: Bailey Keating & Miles